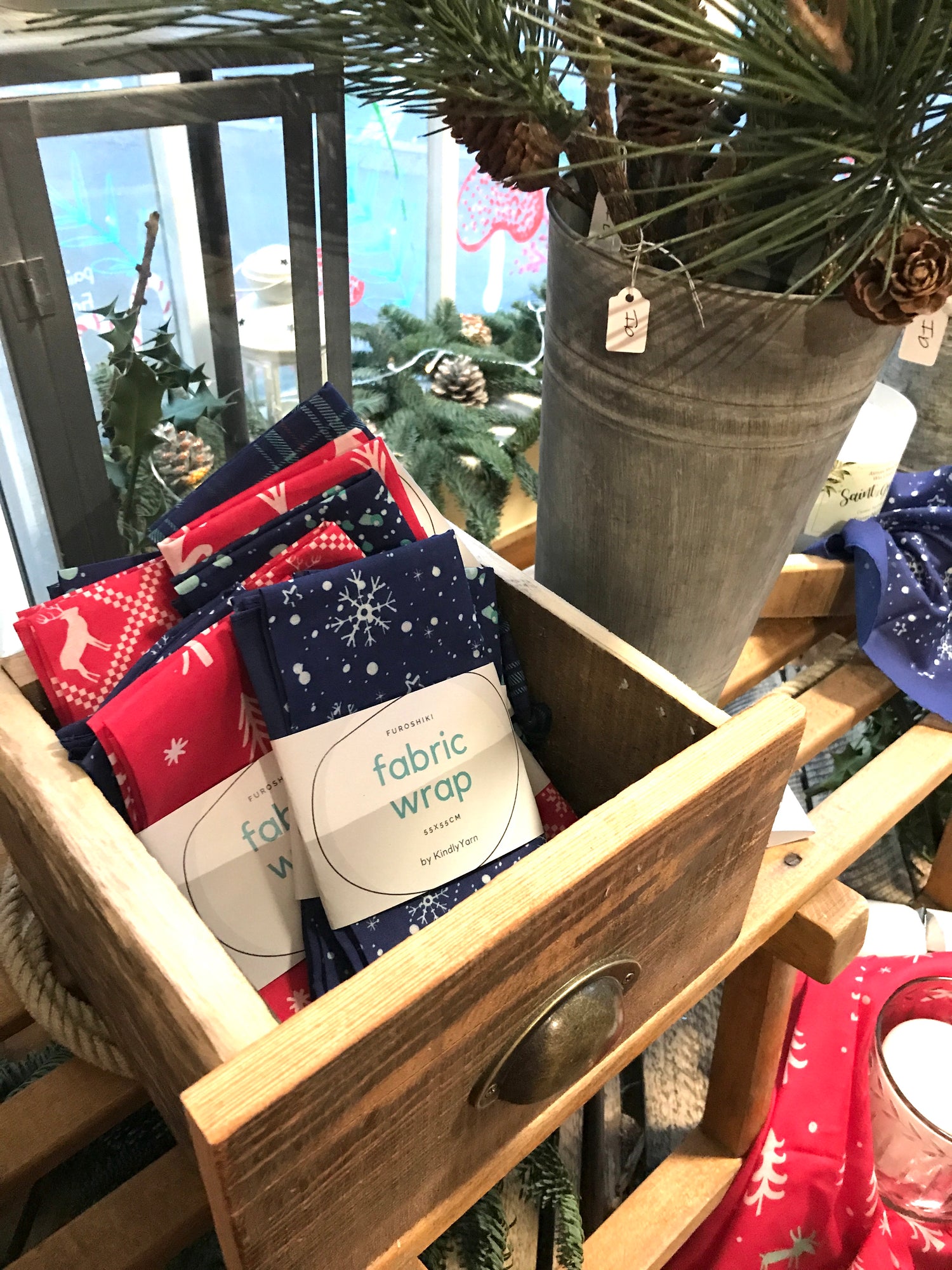 Custom print your own furoshiki scarf designs, or simply choose from our current range of Kindly Yarn furoshiki fabric wraps.
With people looking for more sustainable products and reusable swaps, furoshiki is becoming increasingly popular in the UK. Join our growing list of B2B customers.
IDEAL FOR
Resale as part of an eco, stationery, or gifting range
Designer scarves in a clothing or accessory section
Sustainable corporate gifting and events
Choose from current furoshiki range, or custom print
Current furoshiki range

Choose from our current product range, for low minimum order quantities and quick delivery. Ideal for small independent stores, gift wrapping services and events.

 

Wide choice of designs available
Available as 53cm and 80cm furoshiki scarves
Low minimum order quantity - just 30 units - which can be split across patterns and sizes
Fast delivery, orders usually ship in 3 working days
Supplied retail ready with 'Kindly Yarn' branded packaging

Custom printed furoshiki scarves

Your own design or branding, custom printed onto a furoshiki or scarf, for an original proposition. Ideal for artists and designers, sustainable corporate gifting/events, or larger stores.

 

Your own patterns printed, neatly hemmed and finished into scarves
Minimum order 50 units, per design, per size
Available in 53cm, 80cm and 110cm square scarves as standard
Approx 6 to 8 weeks order time
Other fabrics and sizes available for larger orders, get in touch for a quote
Testimonials
"As an environmentally friendly retailer, we wanted to offer our customers an eco-friendly alternative to traditional gift wrapping – Kindly Yarn offers just that. The products sell well alongside our range of greeting cards at the checkout, and the service & support from the team has been fantastic"
PROTECT THE PLANET (ECO RETAILER)
______
"I had a great experience creating a bespoke order with Kindly Yarn. Bev was so helpful and provided great advice. I couldn't be happier with my bespoke wraps! Thank you!!"
BESPOKE + LOCAL (LUXURY GIFT BOX CO.)
______
"They looked gorgeous, we had lovely comments and every single person took their gift home with them (usually some people leave them behind) so that is testament to the lovely looking gift!"
BARCLAYS (CORPORATE EVENTS)
______